We have a bunch of new features to share with you. We hope you like them.
When we launched earlier this year, ChronoFlo Timeline Maker already boasted features that many other timeline apps lacked, such as themes, multiple timeline views, categories, tagging and search.
Since then, we have been regularly rolling out new features, a notable example being the ability to create hand-drawn-style timelines - something no other timeline software offers.
I think it is fair to say that ChronoFlo Timeline Maker is now one of the most feature-rich apps - if not the most-feature rich - for making timelines available. So time for us to rest on our laurels and take things easy?
Absolutely not. We are not only on a mission to create the best timeline maker available but the best timeline maker it is possible to create. And that means investing in new features to make your timelines more captivating, easy to use and powerful for your audience.
Below you can find out about our latest new features. Check back with us regularly; these certainly won't be the last.
Snake timeline template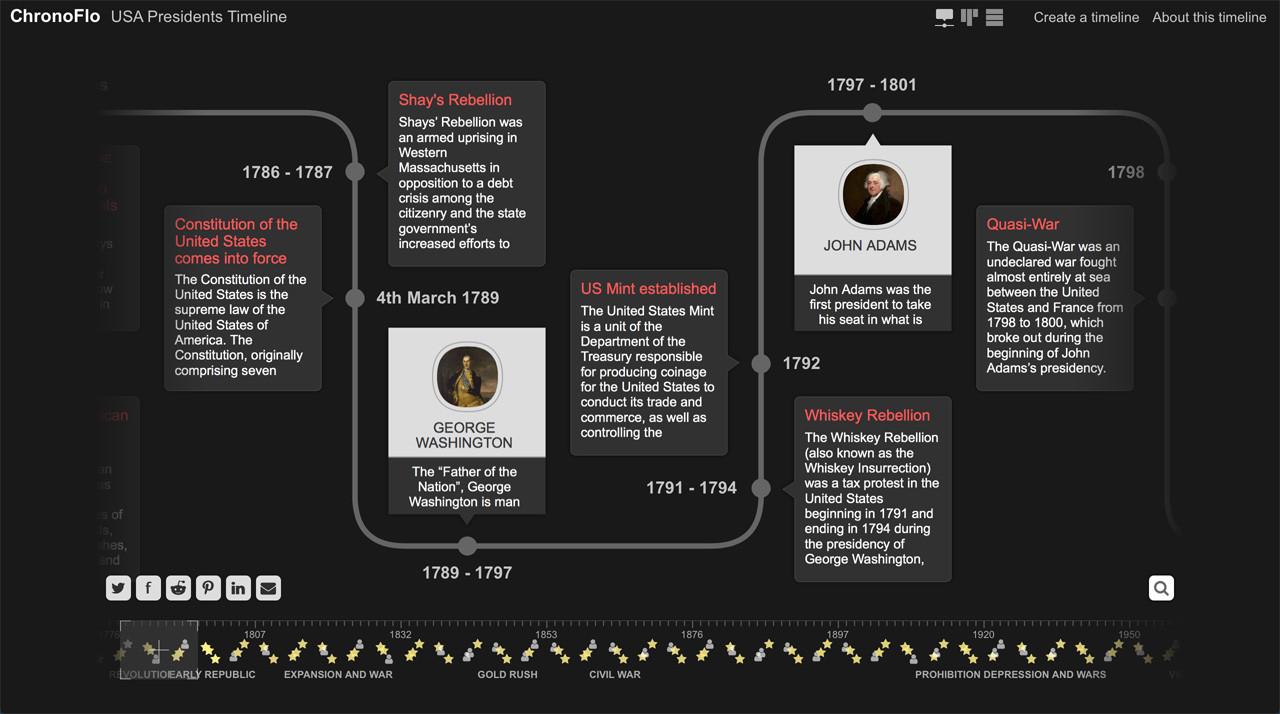 A couple of years ago, when we first started working on ChronoFlo Timeline Maker, we created some mock timeline designs in a graphics program, with the aim of giving us something to aim for with our product.
One of those mock designs was for a Snake style timeline, whereby events are arranged along a wiggly date line. Now, we are delighted to announce that we have turned that flat design into a fully-interactive template that you can use for your own timelines.
The Snake design is one of seven designs you can choose for your timelines. It is particularly useful for giving a timeline a clean look, such as you might want for a company history timeline or a product milestone roadmap.
It also works out-of-the-box with any of our themes or themes you have created yourself. And, like all our timeline templates, you can switch to and from the Snake timeline design without any need to re-layout events - our software does that automatically for you.
You can try out our new Snake timeline template now. Simply select the 'appearance' tab from the options menu, and choose 'Snake' from the 'design' dropdown menu. We'd love to see what you create with our Snake view. Email your timelines to hello@chronoflotimeline.com.
Keyboard controls
We are acutely aware that not everyone is as lucky as we are to have fully-functioning hands and half-decent eye-sight. We have therefore been thinking about how we can make our timelines easier for people with disabilities to use.
One thing we have offered from the start is a chronological list of events below the fully-interactive timeline. This list is laid out in a simple and easy-to-read format within the HTML of the web page, hopefully making it not too difficult for users of screenreader software to access the information.
Now, we have provided features to help those who find it difficult to use a mouse or touchscreen, and who rely on a keyboard (perhaps controlled by their voice) to navigate web pages.
You can now navigate through the interactive timeline using keyboard controls. The left and right arrows will move between events on the timeline, selecting them. The return button will open the most recently selected event's more information panel. You can use the Esc key to close an event's more information panel.
These keyboard controls can also be set to work with pointer devices, allowing people performing presentations to navigate through a timeline when they are physically distant from their computer.
Autoplay

Observant users of ChronoFlo Timeline Maker may have noticed the 'Advanced Settings' button that appears at the top right of the 'Timeline settings' tab (accessible from the options panel to the right of the timeline edit screen).
Those who clicked on the button would have been disappointed because the panel that appeared was empty. No longer. We have now populated the 'Advanced Settings' panel with a number of useful options.
Perhaps the most interesting is our new autoplay feature. You can now set your timeline to animate without any interaction from the viewer. This might be useful if you are doing a video recording of the timeline while providing an audio commentary.
Autoplay may also be valuable when displaying your timeline in a kiosk as part of a museum or gallery exhibition.
We offer three autoplay modes. The first simply animates at a constant speed through the timeline from the start to the end, then repeats. The second animates between the events, pausing on an event before moving on to the next.
The final mode works like the second but also opens an event's content panel, before pausing for a bit, closing the event panel, and then animating to the next event.
You can control the speed at which the timeline animates, and the duration it pauses on events. It is worth noting that when someone interacts with the timeline in any way, autoplay is stopped. It will resume again after a set time where there has been no user interaction.
Mobile options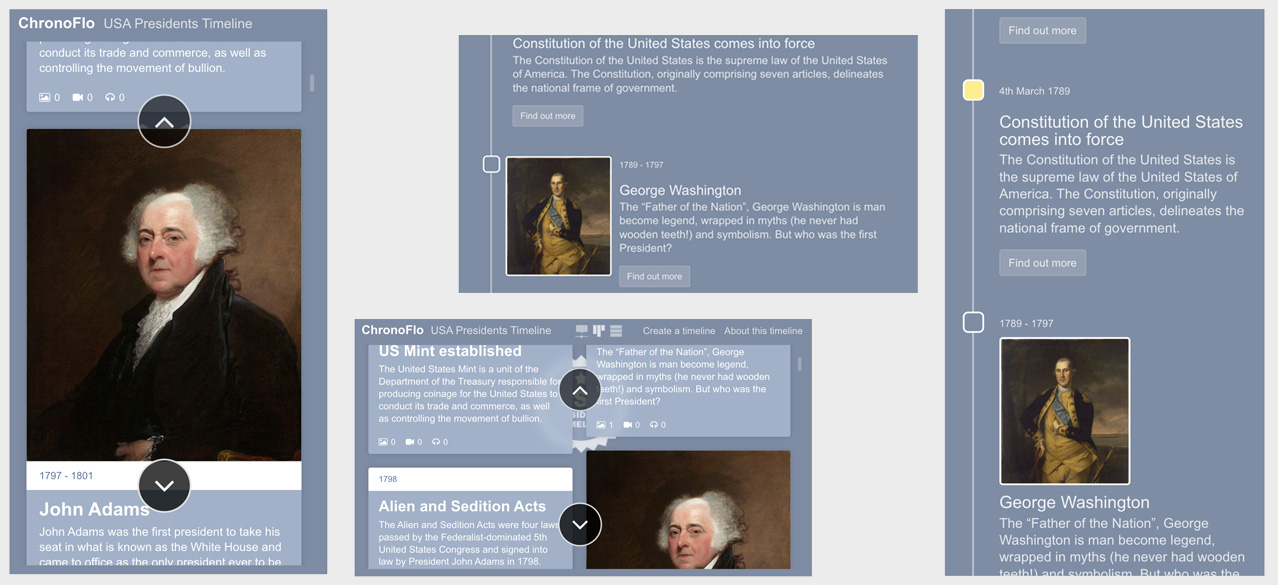 Although ChronoFlo's timelines look best on big wide-screen monitors, they also shine on the smaller screens of notebooks and tablet computers such as iPads. The cramped screens on mobile phones however posed a bit of a problem, especially when the timelines were viewed in a phone's portrait mode.
The timelines still worked but the story bubbles were often very small and difficult to read and navigating was a tad fiddly.
Now, you can decide to display your timelines in a more-mobile-friendly way on phones. You have a couple of options. You can either show your timeline as a vertical pinboard; or we have a pretty looking list view. Both options work well on mobile phones.
Our new mobile options - available from the Advanced Settings panel - also allow you to set a width at which the timeline should be switched to the mobile view. This width refers to the pixel width of the timeline, either set by the browser window or - if you are embedding the timeline on your blog or website - the iframe it is contained within.
Embed options
As part of the latest update to ChronoFlo Timeline Maker, we have also added some useful options for embedded timelines. Our premium accounts allow users to embed timelines on their blog or website, using an iFrame that loads the timeline from our servers.
You can now decide whether to show a list of events under the embedded timeline. This list can be useful on mobile devices or for users of screenreader software.
You can also disable an embedded timeline's mouse-scroll and touch drag functionality, which can be helpful if you want to ensure that viewers can easily scroll or drag down to content below an embedded timeline.
Get in touch
As usual, to keep up to date with the latest ChronoFlo Timeline Maker news and developments, you can follow us on Twitter and Facebook. If you have any questions about our software or need help with something, please email us at hello@chronoflotimeline.com.