We take a look at the nine different designs - including our stunning 3D timeline view - that you can choose for your timelines.
It is said that variety is the spice of life. Here at ChronoFlo Timeline Maker HQ, we couldn't agree more. That's why our software doesn't give you just one timeline template to choose from, like most rival timeline apps, but instead offers you no less than nine different timeline formats, with more planned for the future.
Using ChronoFlo Timeline Maker, you can display your events in a vertical or horizontal orientation, split your timeline into two bands, organise your events along a wiggly line (our new 'Snake' format) or wow your audience with our stunning 3D timeline design.
Importantly, you can switch between these different timeline views at the click of a menu option without having to re-layout all the events manually; our software automatically repositions the events to fit in with the different timeline templates.
Whether you are looking to create a product roadmap for your team, celebrate your company's anniversary with a corporate history timeline or simply want to log down your memories for your children to enjoy, ChronoFlo will have a template perfect for your needs.
Here, we are going to take a look at each of ChronoFlo Timeline Maker's nine timeline templates, and highlight their key features. We hope this will help you find the timeline template right for you and your project.
3D timeline template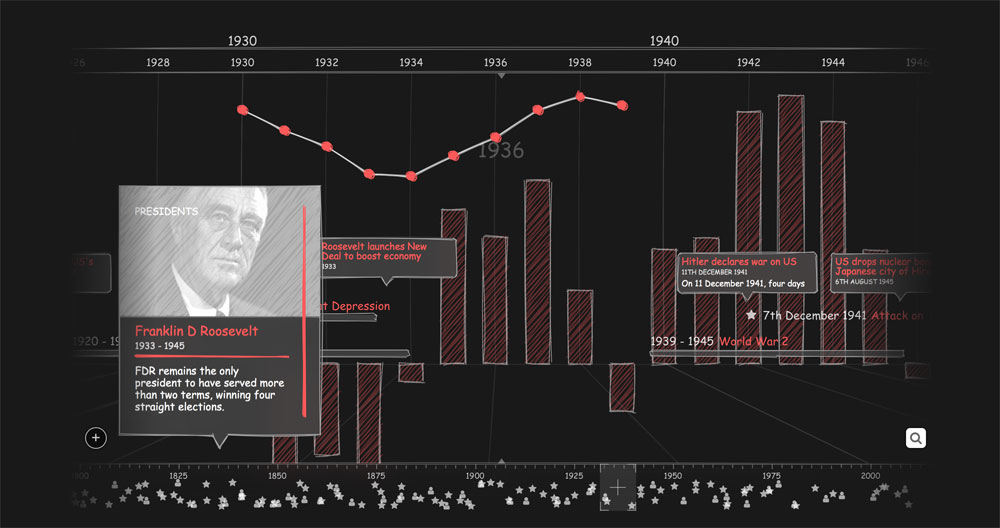 Ever since computers were first invented, brainy people have been dreaming up ever cleverer ways of making them useful and entertaining. One of their biggest advances was displaying 3D information on a 2D computer screen.
This technology has since been used to create immersive 3D games where you get to explore whole virtual worlds from the comfort of your sofa.
As it transpires, 3D also works very well with time-based data, as ChronoFlo's 3D timeline template demonstrates. Our 3D template allows you to place data in either the foreground or background layer of a 3D timeline.
This might not sound very radical. But when you combine graphs, images and supplementary information on the background layer with key events or stories on the foreground layer, you get a rich multimedia experience that gives added context to important moments in history.
ChronoFlo's 3D timeline template is ideal for displaying more complicated and varied chronological information, such as detailed historical timelines, legal/litigation timelines, literary timelines, and company history timelines.
Split timeline template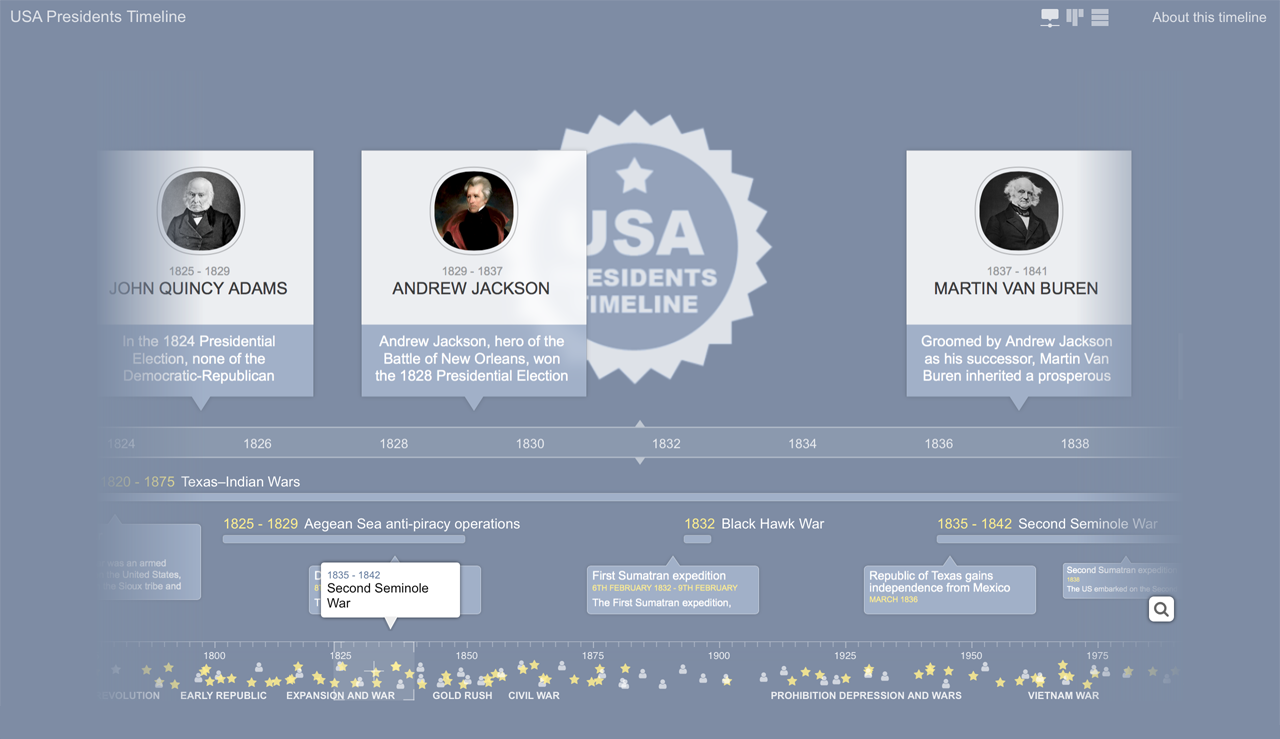 Like our 3D timeline, ChronoFlo's Split timeline template excels at displaying more complicated chronological data. You can choose to display events or graphs above the timeline's date line or below it in separate bands. Splitting your data up this way can result in a much cleaner-looking and easier-to-follow timeline layout.
With our US presidents timeline above, we used a variation of the Split timeline template called the 2:1, which provides a bigger space above the date line than below.
We placed the main focus of the timeline, the presidents, in this bigger band, giving them greater prominence than the key historical events, which we placed in the smaller, lower band. The end result is a timeline that conveys a lot of information but which does not overwhelm or confuse with an overly-dense design.
The Split timeline template is a great all-rounder that can be used for detailed historical and legal timelines, business plan timelines, product roadmaps and project timelines, as well as for simpler timelines such as company histories, life story timelines etc.
Stack-by template (new)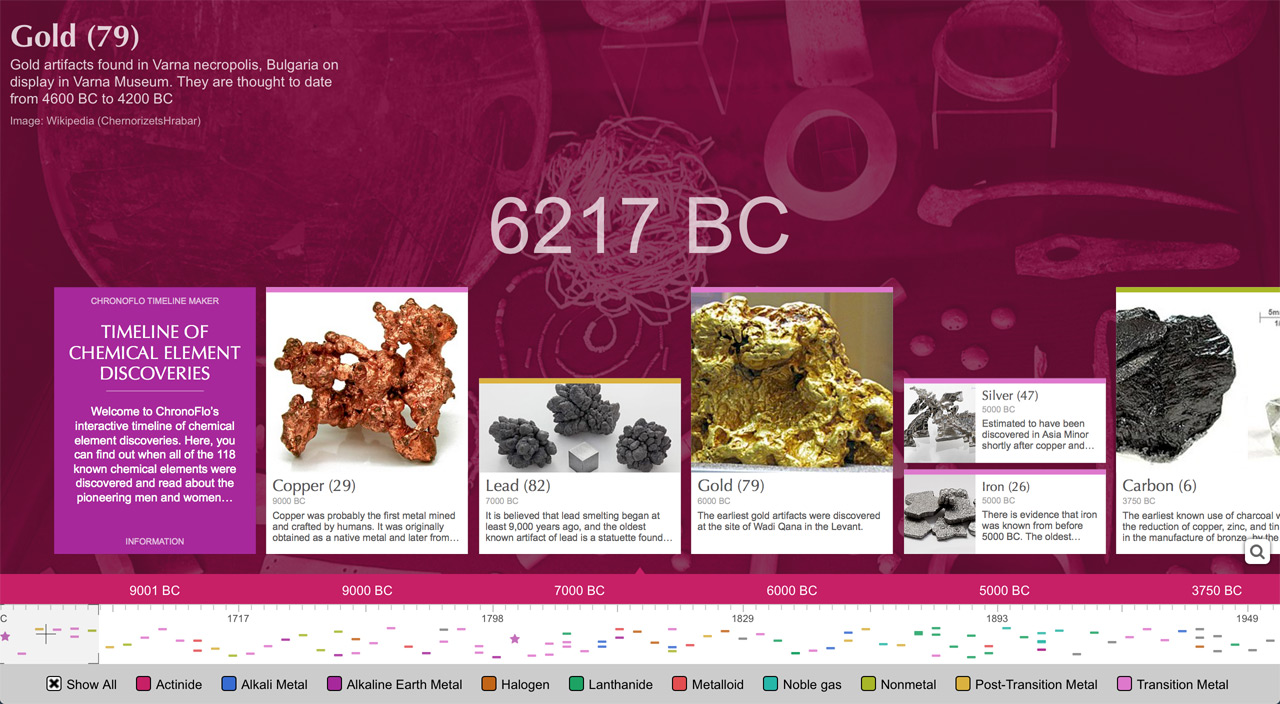 This timeline template makes use of ChronoFlo Timeline Maker's new Stack-by spacing option, which allows users to group events of the same year, month or day in nicely alligned stacks. If you want your timeline to look neat and ordered, this is the perfect template for you.
Interestingly, the Stack-by design can be combined with some of our other timeline templates, such as the Standard, Split and 3D designs. It also works very well with our new Grid panel designs, which are designed to interlock event panels visually like brickwork.
You can find step-by-step instructions for how we created the above Timeline of Chemical Element Discoveries here.
Snake timeline template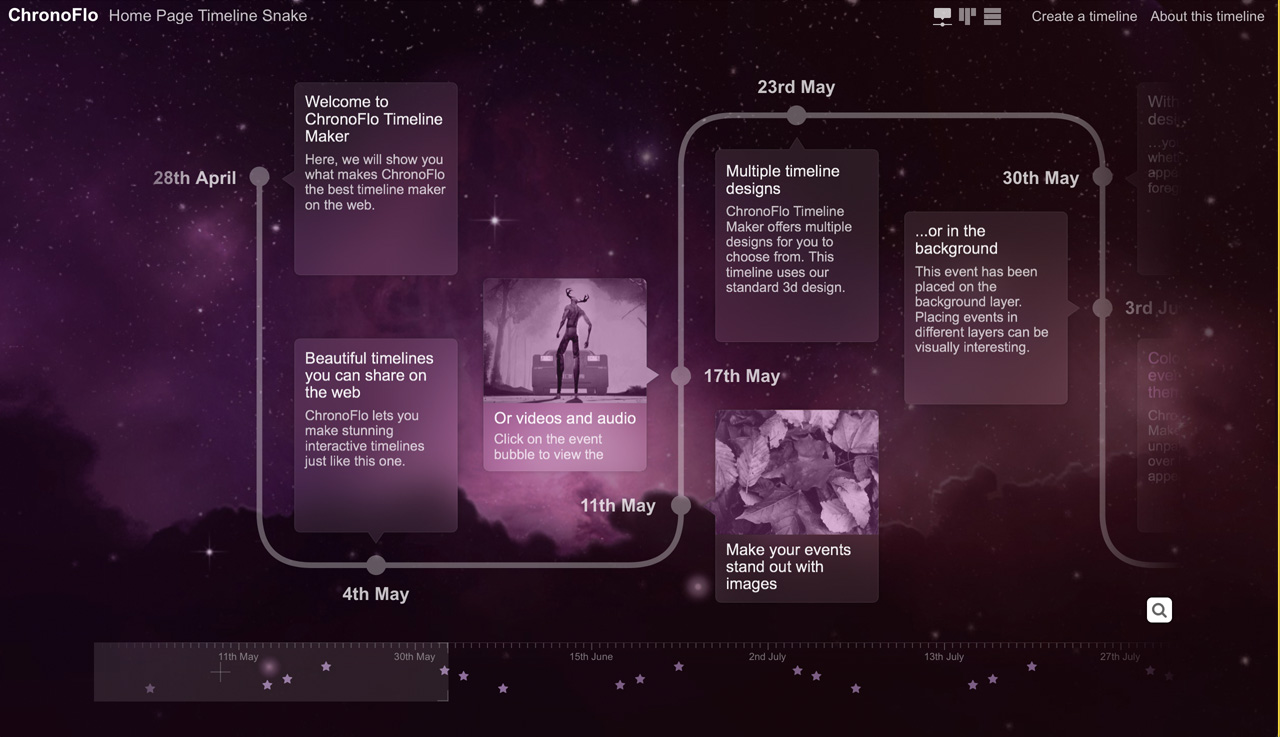 This is one of our new timeline templates. We hope you like it! It's named after the date line that snakes up and down along the timeline.
Unlike our other templates, our Snake timeline design does not use a linear representation of time. Instead, it focuses on displaying events in a visually appealing layout. Events are shown in chronological order at regular intervals along the date line.
This lends the template for uses where the order of events is more important than the gaps between them, such as company history timelines, marketing calendars, and life story timelines.
The Snake timeline can also be very useful when you have a lot of events taking place in a short space of time. With a standard linear timeline, these events would clutter up the timeline. But using the Snake layout, they are all spaced out neatly.
Similarly, the Snake template can really help when you have big time gaps between events. There is no need for the user to scroll endlessly through the timeline to find the events. Instead, they are all laid out close together, making them easy to find.
Sectional timeline template (new)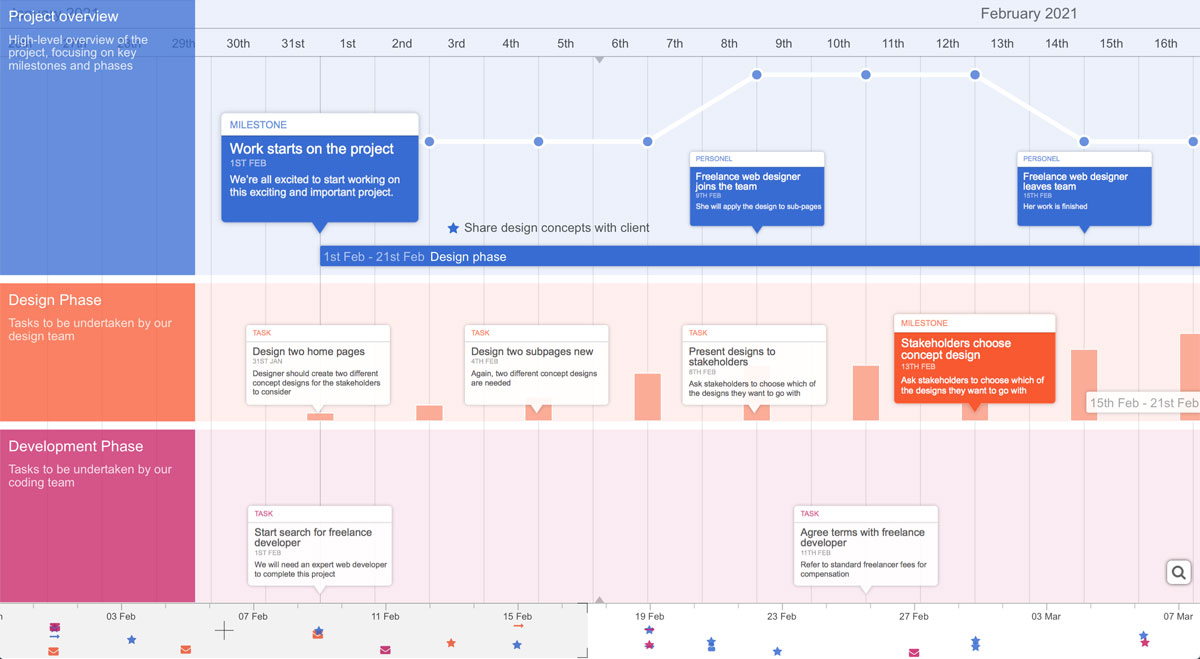 If our Split timeline template does not give you as many bands as you need, then you will likely love our new Sectional timeline template. This allows you to split the timeline into multiple horizontal swimlanes - or sections, as we call them.
Unlike the split design, you are not limited to just two bands - our Silver and Bronze premium accounts allow you to have up to 20 and 10 sections respectively, while even with our free account you can have three.
Each section can be color coded, given a title and description and assigned a default panel design. You can even display graphs in each section.
The Sectional timeline template is perfect for managing projects - you can have a separate section for each team member on a project, for example, making it easy for you to keep track of each person's tasks.
You can find out more about our Sectional timeline template, including detailed instructions on how to make a sectional timeline, here.
Standard timeline template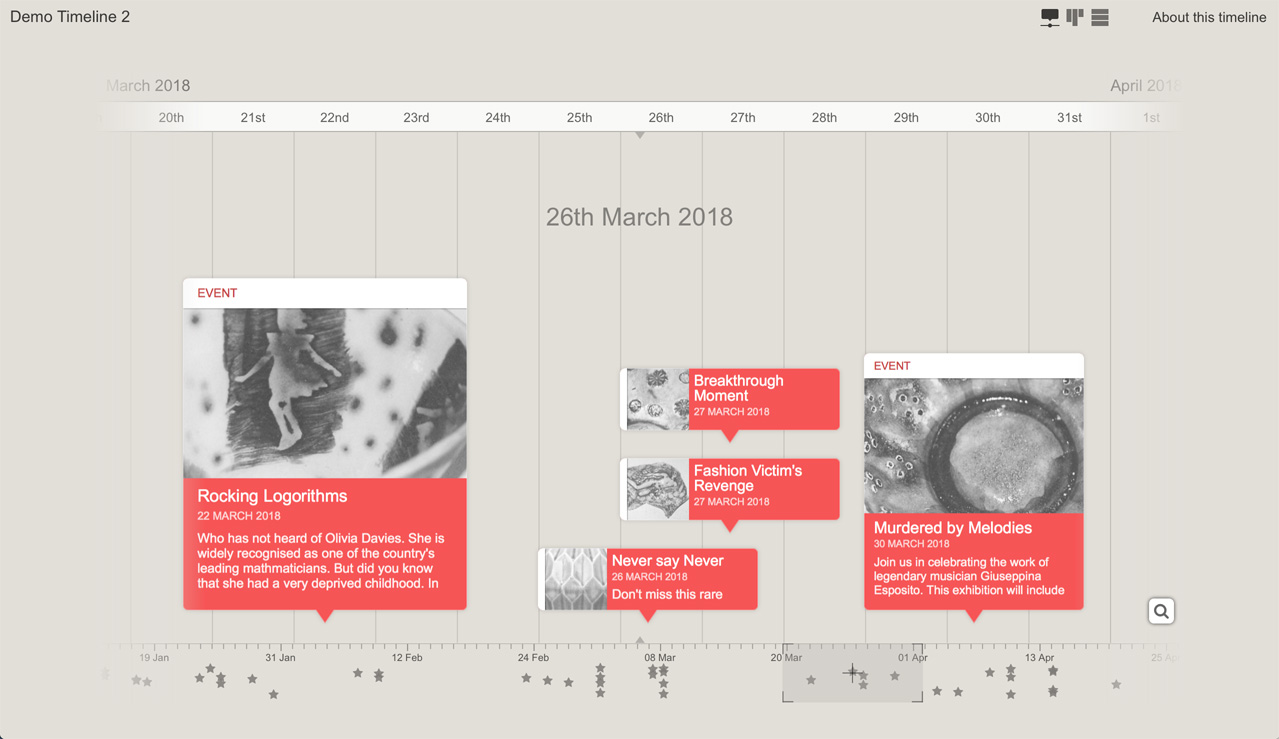 The Standard timeline template might not get your heart racing with excitement. There is nothing fancy about it. It just quietly does the job it was designed for: to provide a simple and effective way of displaying chronological data on a timeline.
If you have ever used a timeline maker before, you will be familiar with how a standard timeline works. Events are displayed from left to right in chronological order and you are usually given the ability to scroll the timeline horizontally to reveal events earlier and later in time.
More advanced standard timeline templates - such as those available from ChronoFlo Timeline Maker - might offer extra features such as zooming and event filtering.
Its simplicity is the Standard timeline template's biggest selling point. It is easy for people to understand. Through the use of colour, images and a variety of panel designs, it is also possible to make the Standard timeline template visually interesting.
Perfect for company history timelines, timelines about people's lives, historical timelines.
Vertical timeline template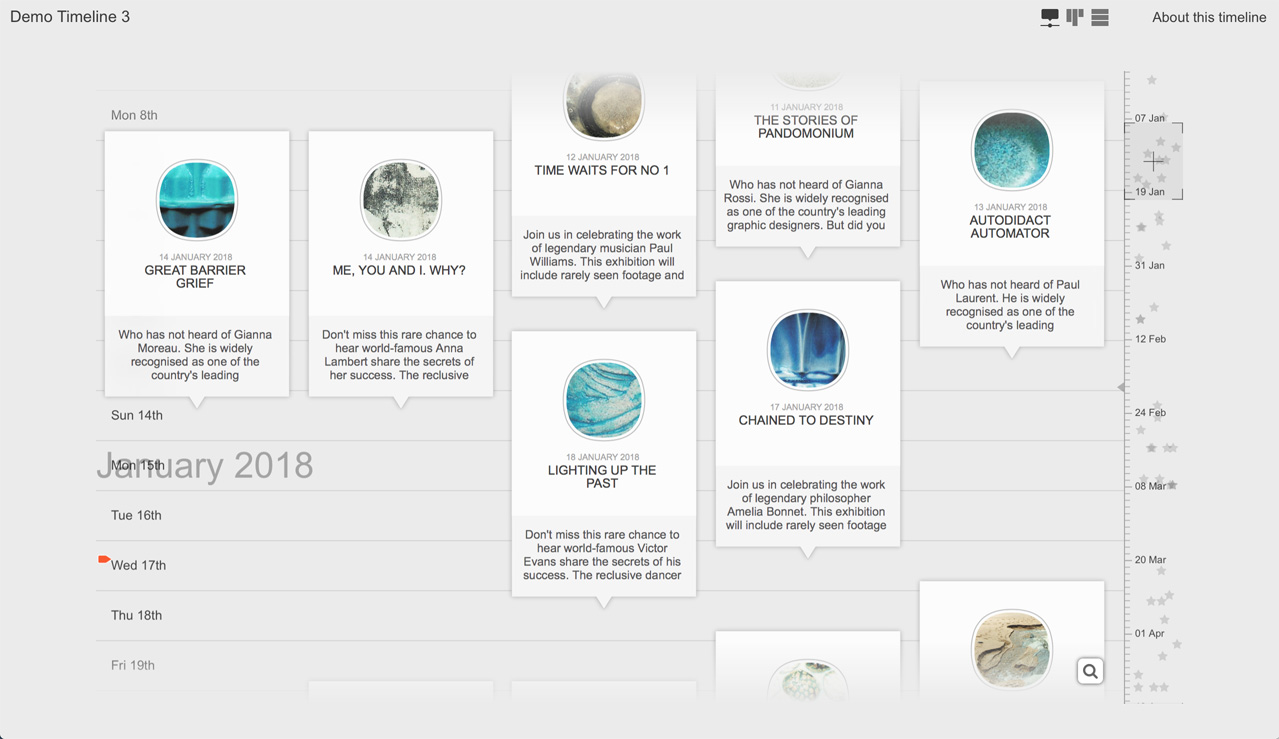 Sometimes it is worth turning things around a bit, literally. By having time flow from the top to the bottom, rather than left to right as most timeline apps do, ChronoFlo's Vertical timeline template provides a different perspective on your chronological data.
Our vertical timeline works particularly nicely with our Card 2 panel design, as the timeline above shows. Perhaps not as versatile as the horizontal formats, the vertical timeline is nonetheless perfect for simpler timelines such as company histories and marketing calendars.
Vertical split timeline template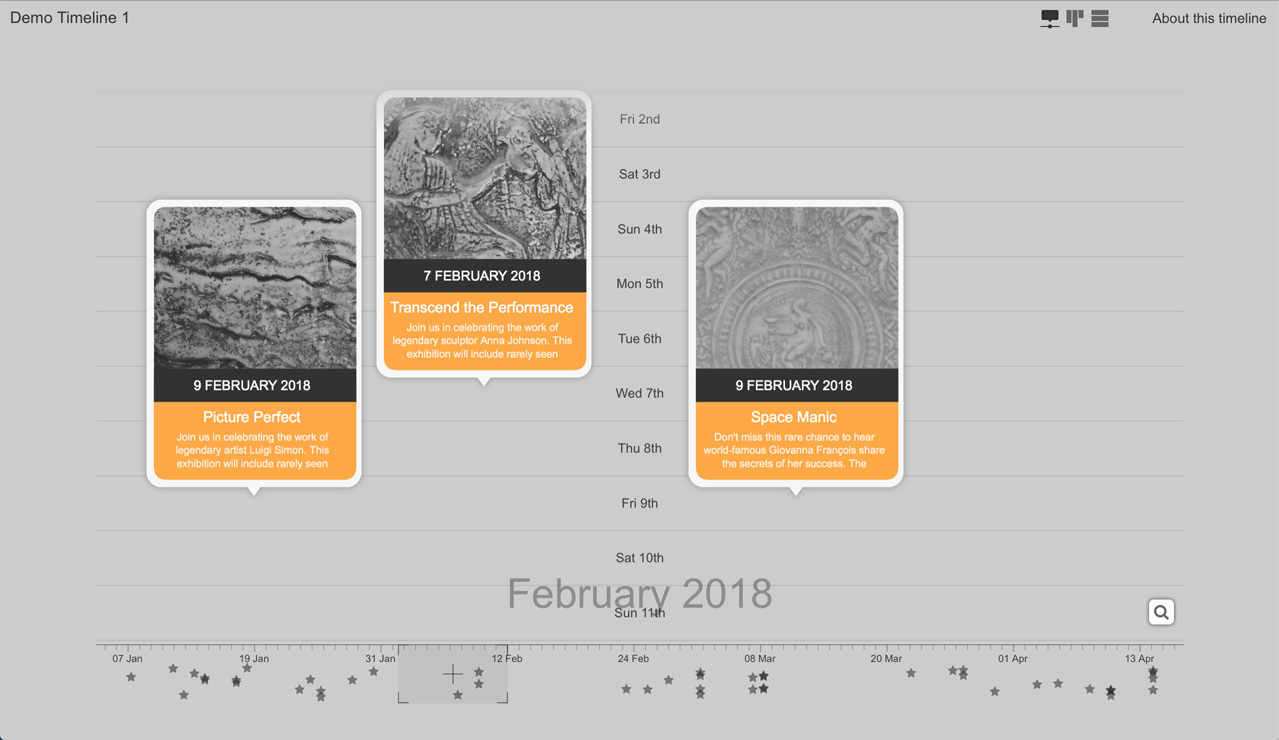 By separating a timeline into two columns, either side of a central date line, ChronoFlo's Vertical split timeline template provides an alternative way of displaying your chronological data in a top-to-bottom layout.
Visually, the timeline can feel a bit more balanced than the standard vertical timeline, because the event bubbles are aligned to the centre rather than one side.
Although the multiple columns open up new ways of displaying more complicated timeline data, the Vertical split timeline, like its cousin, the Vertical timeline, is probably most suited for fairly simple uses, such as company history timelines and marketing calendars.
Vertical 3D timeline template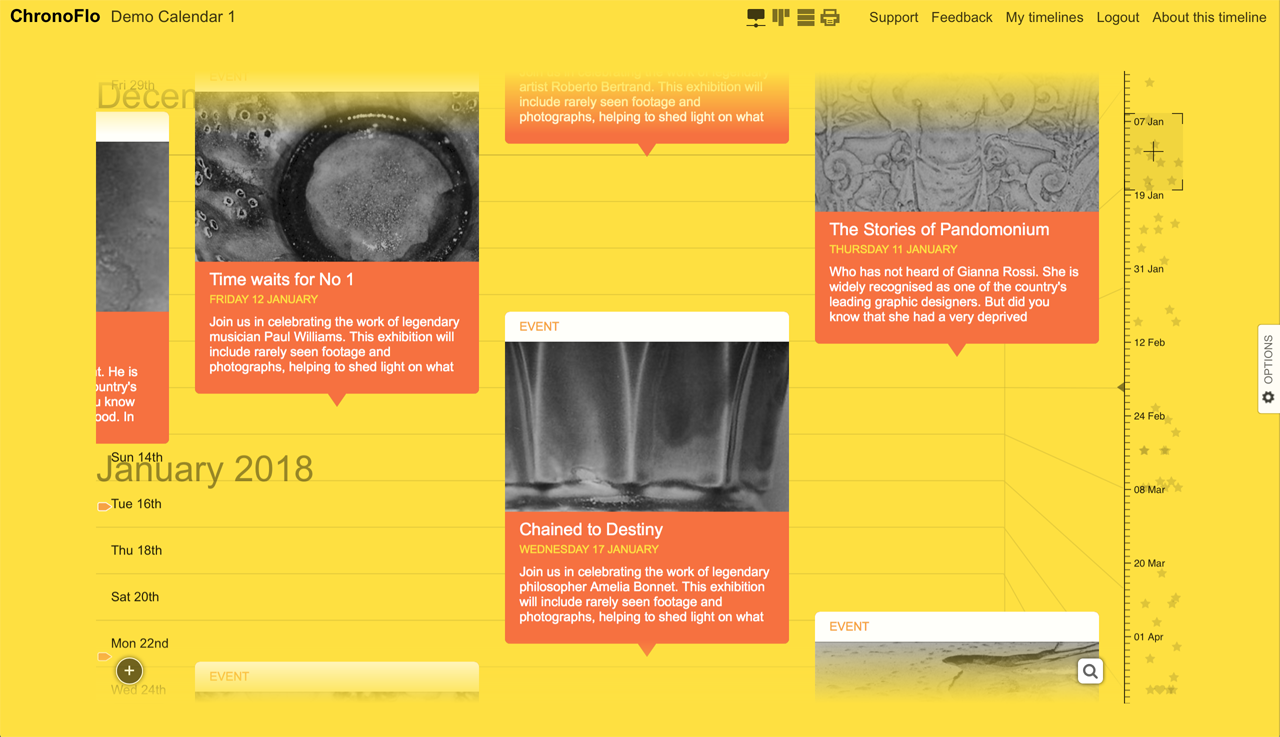 Fittingly, our final template, just like our first template, is 3D. If you want to create a vertical timeline that impresses with a beguiling parallax animation, this is the timeline template for you. Combine it with one of our colourful themes - such as the Yellow Mellow theme used above - and you end up with some serious eye candy that will hopefully wow your users or customers.
This is definitely a template suited to marketing purposes, so think corporate history timelines or marketing calendars.
Further info
We hope you have enjoyed our overview of ChronoFlo Timeline Maker's templates, and have found the perfect timeline design for your project.
We recommend you take a look at our Getting Started video, which shows you how to select a design for your timeline. Our FAQs page also contains a lot of useful information to help you create your timeline.
As usual, to keep up to date with the latest ChronoFlo Timeline Maker news and developments, you can follow us on Twitter and Facebook. If you have any questions about our software or need help with something, please email us at hello@chronoflotimeline.com.